Void an Order
Don't confuse the terms "void" with "cancelled".  To "void" an order would mean that the transaction has been authorized and captured and you want to void that transaction. When
you click on the order number and scroll down to the Payment History section you will see an image similar to the one below. Just click on
the "void" link.

Voiding a transaction will not remove the order from the active order
list. To do this, set the "Order Status" to "Cancelled" and it will
remove it from the list.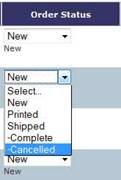 Credit-Only Option for PayPal Advanced and PayPal Pro Gateways
PayPal doesn't offer a void option. You will need to do a credit to cancel the payment.