Email Forwarding - Incoming Email Forwarding
Log Into Webmail To login into your Webmail visit the following URL: http://--yourdomain.com--/mail
(replacing "--yourdomain.com--") with your actual web address.

-Enter your login information, and click "Log In"
Settings Our email system provides various options for users to manage their email account. After logging into the Webmail interface, click the menu icon in the top right hand corner (three small horizontal lines). From this menu, select Settings to see a list of features and options available for users:




The settings menu will bring up the Settings panel, which will look like this:
Incoming Email Forwarding Options:While in Settings menu, select 'Incoming Email' from the menu on the left side. It will display this menu:


There will now be three tabs along the top of the Settings menu, Auto-Reply, Forwarding, and Filtering.


To forward e-mails, we will want to click on the "Forwarding" tab.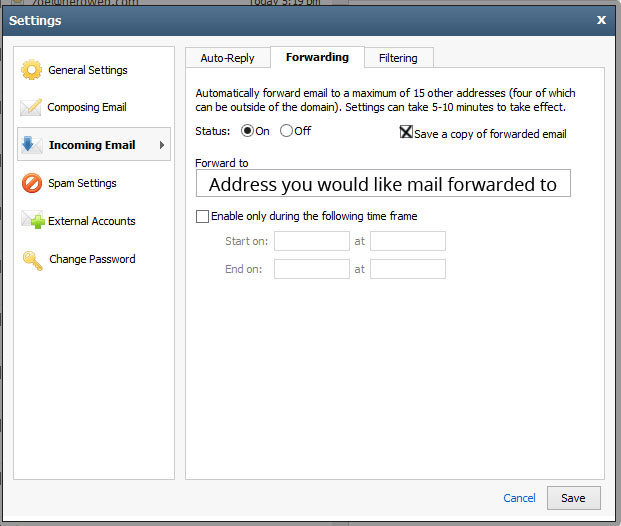 All that is left to do is change your forwarding "Status" to on, enter the email address you would like your mail forwarded to, and then click "Save".
We recommend that our customers that use their HEROweb provided e-mail accounts also click the "Save a copy of forwarded email". This will save the email in addition to forwarding it.
If you would like your mail to be forwarded during a set time period, you can do so by checking the "Enable only during the following time frame" checkbox and entering the relevant information.