Google: Google Product Search
Google Product Search
is Google's comparison
shopping engine. The listings show up on the
Google Products
page, and also within Google's main search engine results.
Users can search for specific products and view prices from retailers who offer
the products. Participating retailers provide Google with a
"feed" file of all their products and pertinent data.
On Google Products:
On Google's main search results: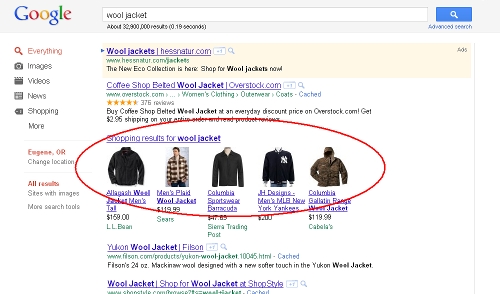 Unlike most other shopping engines on the web, Google does not charge a fee when your products are clicked on. Listing the products from your site on Google Products can be a great way to increase traffic to your store and overall sales.
Just as Google does with your site for regular web search, Google Product Search uses the wording and terminology in your feed file to determine how relevant your products are to each user's search query. A well-worded feed is crucial to get good exposure from your products.
We make it easy for MightyMerchant customers to participate in this program. For a small monthly fee, we will set up your Google Products account, format a feed file of your products, submit it to Google regularly, monitor your traffic and sales, and make ongoing optimizations to your feed's wording to help your products get the best exposure possible. We will send you a monthly progress report of your traffic and sales from your Google Products feed. Contact us to request a Google Products feed.
If you would like to do the setup and optimization of the feed yourself, you can still request an easy feed export of your site products for a smaller monthly fee. Simply contact us to request the feed, then you can proceed to set up your Google Products account. We will contact you when your feed is ready and you can schedule your Google Products feed.
Questions? Let us know!