Form Component: Editing the Introductory Text that Accompanies Your Forms
The way that MightyMerchant handles forms has evolved over the years. Where your form introductory text is located depends on when your site was created. Below, we will list instructions for accessing your introductory text based on your type of site.

Accessing Form Text on Mobile Responsive Websites:

Depending on the number of forms your website uses, the text that accompanies your forms may be found in one of two places:
Multiple forms — Multiple forms are usually grouped inside a category called "Forms" or "Keep in Touch." To edit the accompanying text for an individual form, view the subcategories in the "Forms" or "Keep in Touch" category in your site manager, and click the name of the appropriate form.
Single (contact) form — Click "Contact Us" at the top level of your site manager
If you are unable to find your form using one of the above methods, we suggest using the "Categories..." dropdown menu at the upper-right-hand corner of your site manager to find your form.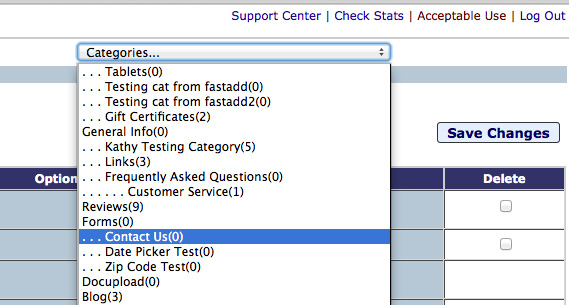 On Mobile Responsive websites, you will have the opportunity to edit both the form's introductory text (the text that appears on the same page as the form itself), and the submission response text, which displays once the user has clicked the Submit button.
Accessing Form Text on Non-Mobile Responsive Sites:

On websites that are not mobile responsive, the introductory text is generally located in your website's settings, which you can access by clicking "settings" at the top of your site manager. If you do not see a Form Intro Text field in your general settings, you may need to click "More settings" in the blue bar across the top of the site manager.

If you cannot find the appropriate field in "settings" or "More settings," please send us an email at webhelp@heroweb.com