How To Schedule Your Google Product Feed
If you have arranged for an automated
Google Products
feed export from your MightyMerchant store, the below steps will let you upload your file to Google and schedule it to be regularly refreshed.
2. Log into your MightyMerchant site manager (go to www.--your-domain--/myadmin.php). Click 'catalog > data feeds' or 'site content > data feeds' (depending on your site manager version). You'll be able to access your new feed, see the feed name and copy the url to the feed.
3. Sign in to your Google Products account and click the link to go to the "Google Merchant Center". You'll see a screen similar to this.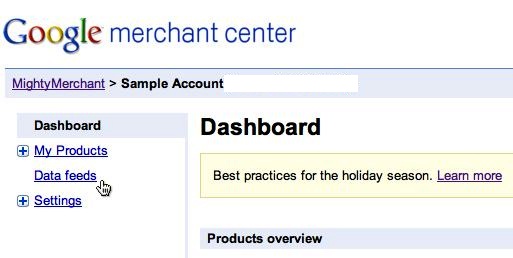 4. Click the "Data Feeds" link.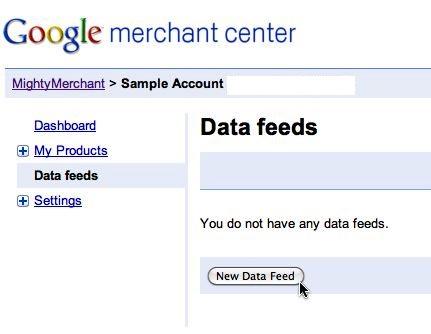 5. Click the "New Data Feed" button.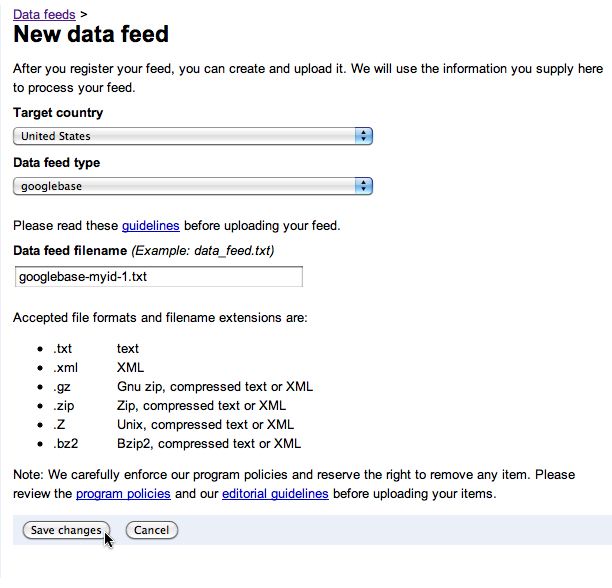 6. Enter the name of the file that is listed in your site manager and click "Save Changes".

You'll see your new feed listed.
7. Feeds can be uploaded either manually or at scheduled intervals. To manually upload your feed, first download it from the site manager and save to your hard drive. Then click the "Manual Upload" link, locate the file and click "upload".
8. To schedule your feed, click the "Create" link.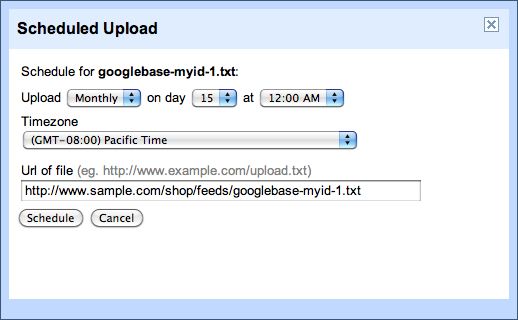 9. Copy and paste the link that is provided in your site manager into the "Url of file" box. Choose your schedule (we recommend weekly) and click 'Schedule'. Your feed will be automatically generated and updated.
If you have more than one feed listed in your site manager, repeat steps 4 - 9 for each feed (most customers will have only one).
For more support on using
Google Merchant Center, click here
.